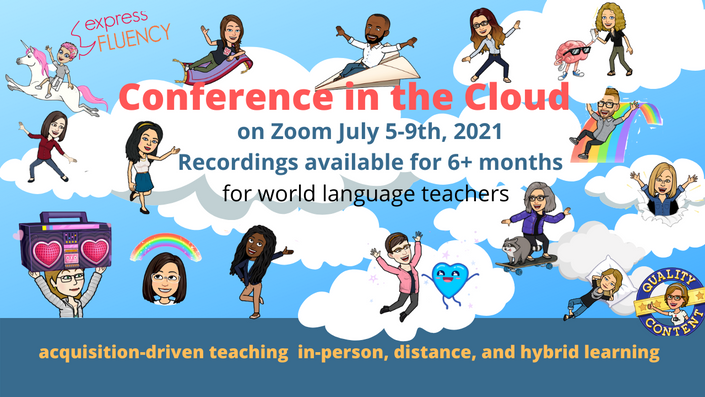 Conference in the Cloud July 5-9, 2021
organized BY language teachers FOR language teachers
Enroll in Course
Join us on Zoom July 5-9th, 2021 for Express Fluency's second annual Conference in the Cloud. Conference in the Cloud is an incredible opportunity for language teachers from all over the world to experience acquisition-driven teaching strategies first hand through observing live Zoom language classes (elementary, middle, and high school French, Spanish, Latin, and Mandarin), participating in classes as a student, and engaging in workshops to help you learn valuable strategies and teaching techniques. Dance, fitness, and yoga classes are offered throughout the day to keep you moving! Lunchtime discussions and evening social hours allow you to connect with other participants and make new friends.
Our presenters and instructors are all leaders in the field of acquisition-driven/ comprehensible-input based language teaching. Classes and workshops will highlight teaching strategies applicable to in-person, hybrid, and distance learning situations.
The schedule is based on eastern time, but classes and events are planned to work with participants from the west coast as well as international participants. Last year teachers joined us from six continents!
All of the classes and workshops are recorded and are posted each day of the conference so there is no FOMO (Fear of Missing Out). You will have access to watch these recordings until January 31, 2022. If that isn't enough time you can also purchase a 3-month extension to view the recordings until April 30, 2022.
Graduate-level credit is available from the University of the Pacific for an additional fee, paid directly to them. Read more here.
Our phenomenal team of instructors and presenters includes:
AC Quintero
Alice Ayel
Allison Litten
Anna Gilcher
Annabelle Williamson (AKA La Maestra Loca)
Anne Matava
Bertha Delgadillo
Claudia Elliot
Diane Neubauer
Donna Tatum Johns
Elissa McLean
Erica Peplinski
John Bracey
Justin Slocum Bailey
Kristen Noelle Donoghue Wolf (AKA La Loba Lista)
Meredith White
Michele Whaley
Mike Peto
Ping Wu
Rachelle Adams
And others TBA!
Attending with others from your district? When three teachers from the same district enroll the 4th comes for free!
Scholarships are available. We will be posting an application soon.
Course Curriculum
Welcome to the Conference in the Cloud 2021!
Available in days
days after you enroll
Frequently Asked Questions
When does the course start and finish?
The conference is happening live over Zoom from July 5-9, 2021. All classes and workshops are recorded and posted to this site. They will be available for viewing until January 31, 2022. If you would like more time to watch the recordings, a 3-month extension can be purchased.
Do you accept school purchase orders?
Who do I contact with more questions?
Can my kids enroll in a language class?
Yes! Children of conference participants can enroll for FREE! Registration will open soon.
How do I get graduate-level credit?
Credit is granted through the University of the Pacific. Read more about the fees and requirements here.https://teacherfriendly.com/express-fluency-conferences/
Do you provide a Certificate of Completion?
Yes- we provide options for 30 hour or 60 hour certificates.
Testimonials from last year's participants:
This is the most beneficial conference I have ever attended...I will never go back to how I used to teach Mandarin before. If there is anything that is going to make learning Mandarin fun and effective, CI it is.-- Roger

I have had a blast so far and my brain is trying to process it all. So many great ideas and presentations. Best conference ever.-- Jen

I couldn't sleep last night because I was thinking about all the great ideas!-- Melissa

This conference fell into my lap at the exact right time...I feel refreshed, I feel renewed, I feel prepared...I feel so much more confident and ready, whatever my school decides to do.-- Stephanie

I thought all of the presenters were absolutely wonderful and very, very well-prepared and willing to share their tricks of the trade and to be able to give us such great ideas for the upcoming year. -- Steve

This is my third year in a row attending Express Fluency's conference, and I would not trade it for anything. It is worth more than the price tag. -- Anonymous (from our Padlet page)

There are always simultaneous sessions over which I am torn during in person CI conferences with many amazing presenters. And I always regret having to choose one session over the other. But this year, you ARE able to see every SINGLE SESSION on video at your own LEISURE! -- Anonymous (from our Padlet page)

The name [of the conference] is perfect, because I am on Cloud 9.-- Angie